Recognition and Promotional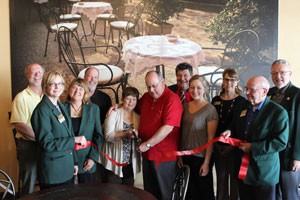 Business Welcome – For new or existing businesses that join the Waupaca Area Chamber of Commerce. This opportunity allows the business to showcase their business to the WACC Ambassadors. A ribbon cutting can be part of the Business Welcomes.
Scarecrow Contest – Participating businesses can enter the contest to win an advertising package. Businesses must use the scarecrow frame provided by the Chamber. Winners are decided by the amount of donations collected for the food pantry. The public can enter a drawing for the gift certificate prize packages.  No purchase is required.  Drawing slips and collection pails will be placed in each participating business and the Chamber office. Download information.
Awards Ceremony – The Awards Ceremony is held the fourth Tuesday of January. The event provides an opportunity to reflect on what the Chamber accomplished in the past year and inform members of the Board's plans for the coming year. Small and Large Business of the Year, Rising Star, Service and Project Facelift/Grand Facelift Awards are presented.  Board members (current, incoming and retiring), Ambassadors, committee members, and new Chamber members are recognized.
Referral Services -Member investor businesses are referred each time an inquiry is answered via email, telephone or mail. Member investors are encouraged to display a brochure or business card in the Chamber office visitor center.
Advertising – WACC offers advertising options in the monthly newsletter, weekly E-mail BizBlast, on the WACC website, on the Innline Visitor Information System, and discounted rates in the Waupaca Chain O' Lakes Visitors guide.
Sponsorships – Offering many options to promote your business but also support Chamber programs and community events.