Recognition and Promotion        Networking       Affinity Programs
Public Affairs       Tourism Development
The Waupaca Area Chamber of Commerce offers its member investors and the community numerous programs and services that not only strengthen its members' businesses but also make the Waupaca area a better place to live.  Contact the Waupaca Area Chamber for more information about becoming a member investor.
Shop Local Campaign
Gift Certificates– Waupaca Area Chamber of Commerce gift certificates are great gifts for any occasion. Available in any denomination, the certificates can be redeemed at all member investor businesses.
Save Local Now– Participating Chamber businesses offer discounted products or services and list events. Savings are decided by the business and may change at any time. A link to the Save Local Now site is available on the Chamber and Tourism website. There is no fee to participate in this program.  This program is meant to encourage shopping locally.
Educational Workshops, Seminars and Online Courses
Waupaca Area Chamber of Commerce is dedicated to providing cost-effective training opportunities that meet the needs of our members and enhance their skills, knowledge, and competencies. Courses are offered in collaboration with Fox Valley Technical College, the Small Business Development Center, Lorman Educational Services and well known speakers.
Lorman Education Services – Waupaca Area Chamber of Commerce has partnered with Lorman Education Services to provide continuing education in a variety of topic areas.  Member investors will receive a 20% discount on all seminars, webinars and teleconferences offered through Lorman. See a list of what is available to you and your staff at a discounted fee.

Recognition and Promotional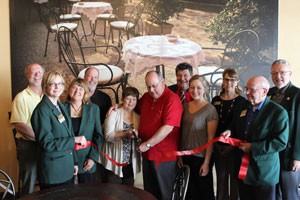 Business Welcome – For new or existing businesses that join the Waupaca Area Chamber of Commerce. This opportunity allows the business to showcase their business to the WACC Ambassadors. A ribbon cutting can be part of the Business Welcomes.
Scarecrow Contest – Participating businesses can enter the contest to win an advertising package. Businesses must use the scarecrow frame provided by the Chamber. Winners are decided by the amount of donations collected for the food pantry. The public can enter a drawing for the gift certificate prize packages.  No purchase is required.  Drawing slips and collection pails will be placed in each participating business and the Chamber office. Download information.
Awards Ceremony – The Awards Ceremony is held the fourth Tuesday of January. The event provides an opportunity to reflect on what the Chamber accomplished in the past year and inform members of the Board's plans for the coming year. Small and Large Business of the Year, Rising Star, Service and Project Facelift/Grand Facelift Awards are presented.  Board members (current, incoming and retiring), Ambassadors, committee members, and new Chamber members are recognized.
Referral Services -Member investor businesses are referred each time an inquiry is answered via email, telephone or mail. Member investors are encouraged to display a brochure or business card in the Chamber office visitor center.
Advertising – WACC offers advertising options in the monthly newsletter, weekly E-mail BizBlast, on the WACC website, on the Innline Visitor Information System, and discounted rates in the Waupaca Chain O' Lakes Visitors guide.
Sponsorships – Offering many options to promote your business but also support Chamber programs and community events.

Networking
Business After 5 – For Members only – Held the fourth Tuesday of each month.  Sponsoring business hosts the event and provide complimentary hors d' oeuvres and beverages or a cash bar.  Admission is free and a 50/50 raffle is held.  Members have the opportunity to host this event.
Leads Network – For Members only – The purpose of this network is to exchange leads, ideas, and information through the fellowship of members of diverse professions.  Ultimately, a successful LEADS Network will further business and financial interests between members.  The exchange of business between members is encouraged, but it is not a requirement of membership in the Network. Cost $45/year.  Network meets the first and third Thursday of each month.
Networking Events – The Chamber's networking events, Business After 5, Golf Outing, Awards
Ceremony, Leads Network, and Operation Thank You help members make the important connections they need to operate and grow their businesses.
Golf Outing – Held the first Monday in June at one of our member courses.  It is a fun day filled with friendly competition, lunch, dinner, raffles and another great chance to network.  Sponsorship opportunities are available.
Affinity Programs
InnLine Visitor Information System – Waupaca area residents and visitors can access information 24 hours a day, 7 days a week, on WACC member businesses and the Waupaca area via the internet or our two kiosk-based, information centers.
Cellular Phone Service – WACC offers a discounted cellular phone service plan through Cellcom to WACC members only.
Collette Vacations – As a member of the WACC you will have access to vacation travel through Collette Vacations at a special rate.  Enjoy the company other of chamber members from around the country while seeing the world.
Constant Contact – Membership businesses can receive up to a 25 % discount on the use of Constant Contact, an online marketing program.
IDShield – Identity theft has been the top consumer complaint for 15 years straight. Protect your identity with IDShield. Enroll today at LegalShield.
Value Added Programs
HealtheVisits – Ministry Health Care brings you virtual house calls. Now a convenient, affordable way to visit your healthcare clinician is just a click away. If you are sick while you are in Wisconsin and have Internet access through Microsoft Explorer 9, Chrome or Firefox, you can logon instead of driving to the doctor's office. Each HealtheVisit costs just $35, which is payable with a credit, debit or health savings account card. If you need a prescription, it will be sent to the pharmacy of your choice. Now, when you're sick, you don't have to leave home. HealtheVisits are almost as good as house calls.  More information.
Social Web Dzine – Web design the right way. Have it done by a professional website developer who understands what you need and knows how to make it happen. As a member of the Chamber, you'll receive a 20% discount off all web design services. Call: 715.281.7309.
Public Affairs
The WACC is an information resource in public affairs and government issues.  We also offer the opportunity to meet with Public Officials to share thoughts and ideas.
Tourism Development
WACC takes a strong role in promoting the Waupaca area as a tourist destination. Efforts include the placement of advertising in various mediums, responding to inquiries,  development of
conferences, meetings and festivals.
Strawberry Fest – An annual celebration held the third Saturday in June celebrating the first taste of summer.Over 10,000 visitors attend this family event.
Hometown Day Celebration– Held on July 4th the day includes a parade, food and events at South Park with fireworks at 9:30 pm over Shadow Lake.
Chain O' Lakes Blues Festival – Held on the 1st weekend in October. Enjoy a variety of Blues music Friday evening and Saturday at the Historic Indian Crossing Casino on the Chain O' Lakes in Waupaca.
O'so Pond Hockey Classic – Held annually the last  weekend of January. Events and food at South Park.